Education for all
Many schools in our network do not have the necessary resources to hire foreign teachers. IVCA is enabling the schools to fulfill this need by setting up a long term volunteer project.
Not only will the volunteer gain experience in teaching and helping the children reach their goals, but they will also gain significant insight into the Thai culture with the help of their camp leader.
Goal
 To provide equal education for underprivileged young people living in rural areas; to plant the seed of ethically, socially responsible behaviors and to broaden the youth's way of thinking.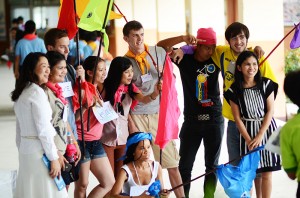 Teaching at school: Many schools in the upcountry that are working with us require English teachers to enable students to practice listening, speaking, and developing linguistic skills as they are currently quite underdeveloped while the current society moves at a rapid pace. English is now a global language so it is crucial to provide opportunity to students in remote schools to learn with international volunteer teachers. volunteers must help us think, teach, and develop curriculums  We have called the lesson "Community Curriculum" and importantly we have to help each other to drive this learning center for continuous development to maximize the benefit to the society as a whole.
Teaching at our base camp: From a small camp with limited facilities in the past, we have transformed into the Learning Center that is frequented by international volunteers. Locals prefer to send their children, both living in the same village and different village, to join our activities. We have made this small camp to become a place to learn about life and green education and also build public consciousness to the children while we keep expanding.
How this project makes a difference
Apart from teaching, volunteers must learn how to live simple live and find their peace of mind from simplicity and they also have to learn about contributing to others.
Volunteers will touch with beautiful natural while traveling for each activity since Thailand is a top tourist destination that equipped by the pleasant environment wherever you go.
Requirements
Age over 18 years
Ability to communicate in English or full intention to try.
Enjoy working with Children
Motivation
Positive Thinking
Open Mind
Team Work Capabilities
Volunteer Life
We are going to live and engage in all activities with Thai and international volunteers, sometimes it requires traveling to upcountry schools to conduct activities or living with locals to understand their cultures and ways of living. Therefore, the most essential for this activity is to learn how to live differently and give opportunity to children.
Volunteers will be collaborated to design and develop existing lessons to perform activities with schools in our networks. We usually do not teach in a classroom, but instead we will teach on the actual site. More importantly, we also teach students in English and we usually use the lesson about natural and environment, also a sustainable development. Apart from these lessons, we are going to build public consciousness to build the tree of goodness, and fond of nature and environment to the children.
Locations
Songkhla, Satun, Pattalung and our base camp.
Working Hours
Usually full time 5 days (Only Monday – Friday)
Volunteer Usually Stay
1 week – 3 months
Food & Accommodation
Program costs include all accommodation, food, and transportation necessary to guarantee a positive and rewarding experience for our volunteers.
Working Hours
Usually full time 5 days (Only Monday – Friday)
Volunteer Usually Stay1 week – 3 weeks
Participation Fee
The fee will be spent on accommodation, food, gasoline, Transfer, all necessary project equipment and materials and supporting our organization. Please bring the fee in Thai currency the first day of the work camp.

What Volunteers need to arrange
International flight
Visa
Vaccinations
Visas
Once you are confirmed on the project, we will offer advice on your visa. There are usually several options, depending on how long you're travelling in Thailand and how long you're volunteering with us etc
Pick-up Service
We prefer our volunteers to arrive at the city either by bus, train or by plane. You can contact our staff via e-mail or phone before you travel to our place. Once you arrive at the station or air port we will pick you up.
Support from IVCA
Orientation and training with our full time staff
In-country coordinating team and 24hr emergency support
Insurance during the period you stay with us
After you successfully applied, we will send you all the information sheets you need before volunteering.