Our Basecamp
Become a volunteer and join us at our work camp  a place where you will learn the philosophy of sufficiency in life, living with Mother-Nature, respecting, sharing and using her resources without destroying her. Most importantly, you can help develop our camp by cultivating our own food. We currently have a chicken farm, fish farms and an organic vegetable plantation.
Location
The IVCA Basecamp is situated at Amphor Hoy Kong, Songkla Province, 30 km. from Hat Yai, amidst fruit orchard, rubber tree and organic farms.
The climate is pleasant all the time, perfect for relaxation and volunteer activities as well. Located in the heart of the village, you can enjoy a bicycle ride to visit the village temple or go swimming at the reservoir.
Khlong Hoi Khong district is a short distance away from Hat Yai and many tourist attractions. Therefore, you can easily go to the jaw dropping beaches, beautiful islands, national park, temple, waterfall, Jungle and much more.
Eco-farm
If you take a walk around our camp, you will be able to find food in every corner; you could be self sufficient for months. This is actually the concept of environmental management at our camp. We must learn to be self-reliant as possible. And everything must be natural, food must be non-toxic.
Poultry: a small chicken farm. Our chickens are only fed with food leftovers, there is no compound feed used.
Duck: Volunteers can help raise duck as it is quite an interesting activity. We make our own duck feeding by mixing the finely diced banana tree trunk mixed with shellfish that we can easily find in the canal.  This is delicacy for duck.
Fish:  we have 5 fish ponds not far from our residence; some of our residences are actually built above the fish pond! And currently the amount of fish is more than abundant, so we have to sell some at the market! What started as a small activity is expanding.
Fruit: At the camp, we grow our own fruit trees such as longan, banana, rambutan, mangosteen. You can help us grow these trees and hopefully we will have a fruit forest in the future.
Vegetables: "Thailand is an agricultural country so we grow our own vegetables. Our vegetables are fresh, clean, organic, and previous volunteers have shown interest in planting methods. Our camp is a large classroom with a teacher from the community who will give the eager to learn, some basic knowledge, tricks and know-how abilities.
Herbs: we have the wisdom and knowledge of the elders of herbs. Currently, we're going to bring this knowledge to conservation and grow as many herbs as possible.
Accommodation
Our accommodation is simple, built according to the traditional Thai Architectural style. The volunteers will have to share accommodation and keep it clean and beautiful. Our facilities have the basic necessities for life. However, it can comfortably accommodate overseas volunteers.
Food
We serve organic Thai food with a variety of menus. Volunteers can learn how to cook Thai food as part of the everyday activities.
Local people
We live our lives through the principle of respect for each other. Our people are kind and easy-going. (Ma pen ri, Thai for "don't worry" is almost a way of life here). Volunteers will easily fit in our community. If you ever get lost during your walk, be assured that the people around the area will know where you come from and help guide you back to the camp. You will experience Thai hospitality.
Water is super clean.
The water quality in Thailand is questionable in the eyes of foreigners. But our water is guaranteed cleaner than bottled water, we even think it may be cleaner than in some other countries. Have your doubts? Please read on. We have water coming from the mountains, refined through several layers of natural filters. Finally, our village has water purifier. We have taken water samples to check at Prince of Songkhla University. And the result was that the water scored very high on purity, refreshing taste and favorable effects on human health.
Internet
We have fast wifi-internet. It is a 21st Century must. Nevertheless, according to our view, we impose a strict period of use: after activity hours, with the exemption of emergencies.
Learning center
This place is planned to be the learning center. We will learn by sharing and create new knowledge based on local knowledge.
The application of technology to achieve sustainable development. In order to do this, we have owr own bank, celled Community bank. We are still developing it and learning following examples of other friendly banks (like Co op Bank). When local people put their savings in our bank they become members, allowing them to borrow money with very low interest rates.
Conservation Camp
Live a simple life and spend our spare time on forest and environmental conservation. This is the concept of our camp.
The area of 100000 acre near the reservoir where our camp is located is called " Phadam". We have the government permission to be here and cultivate the area by creating conservation activity. Therefore, we have created this camp to teach people how to preserve the forest and the environment.
Except for being the learning center, this camp is a replica of the traditional Thai way of life, simple, agricultural and sufficient.
The Phadam Watershed Conservation Group
This has been established since 1990 by forest conservation people to help maintain the diminishing forest. The group aim at forest conservation by inviting outside people to their area and incite the idea of forest conservation to the people and especially for the new generation.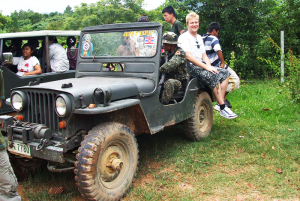 Nowadays, the Phadam Watershed Conservation group is very well-known. It carries out continuous forest conservation activities.
Each year, they organizes the forest conservation concerts in March or April in order to raise funds to support the on-going activities and build the learning center for the youth. They have previously invited some very well-known Thai singers and performers to join the festival. They have audiences of more than 25,000 people a year. And this has made their reputation widely recognized.
Cultural exchange
A few ways that our culture is defined is by our relationship with our families and society, our architecture, dances, art, music, our leaders, our lifestyle, and the way we interact with our community. Come with an open mind and heart and venture beyond our differences to find our true commonalities.
Introduction to cultural exchange
A clear understanding of what culture is is necessary before we discuss what cultural exchange should be. Culture is determined by vast array of influences that culminate in the way we lead our lives. These influences will include such factors as wealth, education, environment, and the relationship with it, history, food, medicine, transportation, religious beliefs and values, laws, family dynamics, access to power, and access to and the ability to utilize technology. Each of these influences can be considered crossroads that can separate one culture from another. Our culture will be shown in our relationship with our families and society, our architecture, dances, art, music, our leaders, our lifestyle, and the way we interact with our community.
An exchange of culture on any substantial level must look underneath day to day issues of life to find the factors that determine our cultural differences until we can find areas of commonality. The cultural exchange is a process of genuine self examination which must be carried out with an open and clean heart and mind, and with a firm understanding that one culture is not better than another. Only then should comparisons be made, and one will find that there is much to learn from one another. This is proper cultural exchange, a two way road of education, evaluation, reflection, and understanding.
So if cultural exchange is important to you, you have probably asked "are we, just by being present, altering their culture?" The answer is, I'm sure, yes, but there are a few topics of greater importance. The first deals with the arrogant notion that many first world travelers carry with them, that only one culture; usually the "weaker" is impacted. The second is that another culture isn't strong enough to choose what it will absorb. So, another important question to ask yourself is "How much does your trip to Thailand or wherever you decide to go impact your culture?" and vice versa "How much of your culture is really on display and how well do you represent it?"